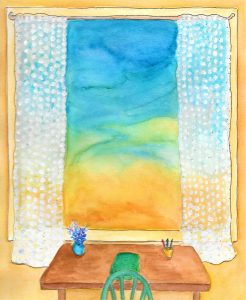 What's a pantoum?
It's a Malaysian poetry form from the fifteen century. They can be of any length, though I usually go for the sixteen-line, four-stanza variety. What makes it a pantoum is that the second and fourth lines of each stanza become the first and third lines of the next stanza, and the first line of the pantoum is often the last line.
Pantoums invite you to repeat yourself, while rearranging whatever you're expressing in fresh and surprising ways. I often have the feeling the poem is writing itself. I've been delighting in writing, reading, and sharing pantoums for a while now and exploring the ways they can help me to notice, savor and treasure, sort out complexities and conflicts, and express what needs expressing.
What is Playing with Pantoums?
Playing with Pantoums is an online class that is part workshop, part party. I'll be providing you with a little instruction and guidance each week, and you'll have lots of opportunity to play around with generating different kinds of pantoums, letting them take you where they want to go. We'll also have lots of sharing, though it will never be forced. 
When: We'll meet on Zoom four Wednesdays, April 5, 12, 19, and 26, from Noon to 1pm. I'll send the Zoom connection information after you register.
Cost: $125
Maximum of 12 participants.
To Pay via PayPal:
To Pay via Check:
Don't care for PayPal? You're welcome to pay by check. Make your check for $125 (in US dollars, please), payable to Carolyn Koehnline, and mail it to:
Carolyn Koehnline
PO Box 1673
Bellingham, WA 98227-1673
If you send a check, please also be sure to email Carolyn at gentleapproachcoach@gmail.com to let me know you're registering.