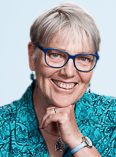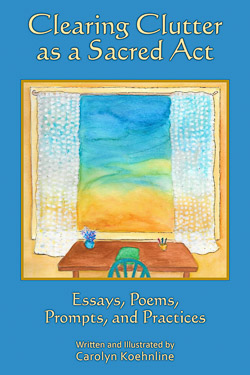 Hi, I'm Carolyn Koehnline. I coach, teach, speak, and write to support clearing clutter, navigating transitions, making peace with time, and tending an emergent life.
Throughout my personal and professional life, I've learned the power of compassionate witnessing and gentle guidance. I'm also consistently astounded by what can emerge from simple, focused invitations to write.
Why a Gentle Approach? In our efforts to change our lives, there's a temptation to treat ourselves harshly. But research has shown that a gentle approach is more effective. Gentle witnessing, combined with helpful tools and strategies, can help you feel safe enough to take risks and make wanted changes, while fostering self-compassion.
After thirty years of being a practicing licensed mental health counselor and certified journal therapist, I made the shift to being a coach. The word, "coach," can mean a lot of different things. To get a better sense of the kind of coaching I do, you may want to listen to The Hidden Art of Coaching 
The territory of this work is also explored in depth in my most recent book, Clearing Clutter as a Sacred Act: Essays, Poems, and Practices. Order the book.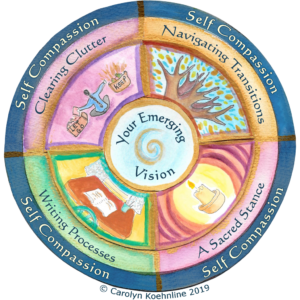 This mandala symbolizes my multifaceted approach to clearing clutter and navigating transitions. Click the image to enlarge it.