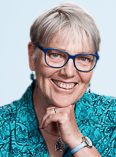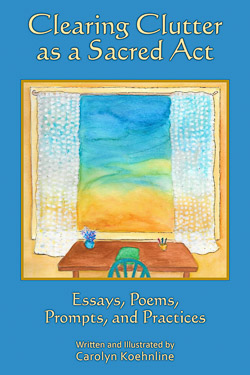 Hi, I'm Carolyn Koehnline. I coach, teach, speak, and write to support clearing clutter, navigating transitions, making peace with time, and tending an artful life.
I offer practical strategies and creative processes you can use for the rest of your life. As a coach and licensed therapist for 27 years, I've learned the power of compassionate witnessing and gentle guidance. As a certified journal therapist, I also share writing processes for healing and change.
Why a Gentle Approach? In our efforts to change our lives, there's a temptation to treat ourselves harshly. But research has shown that a gentle approach is more effective: Gentle witnessing, combined with helpful tools and strategies, can help you feel safe enough to take risks and make wanted changes, while fostering self-compassion.
The territory of this work is explored in depth in my new book, Clearing Clutter as a Sacred Act. Order the book.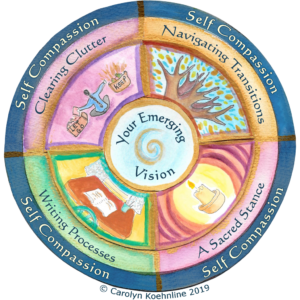 This mandala symbolizes my multifaceted approach to clearing clutter and navigating transitions. Click the image to enlarge it.