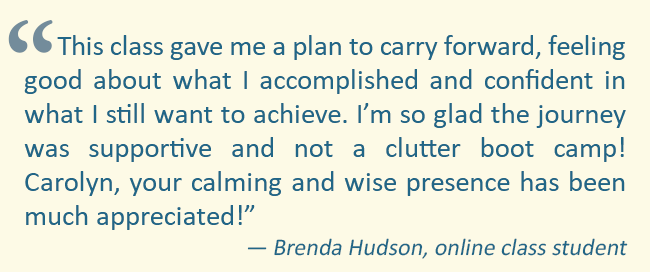 I offer presentations and workshops to large and small groups, in conference halls, churches, offices, and living rooms, tailoring my message to the participants. For larger gatherings, I often weave in images, songs, and poetry to enhance the message. When in more intimate workshops, I bring in discussion and writing processes to deepen and personalize the information I'm sharing.
Topics for Talks, Workshops, and Worship Services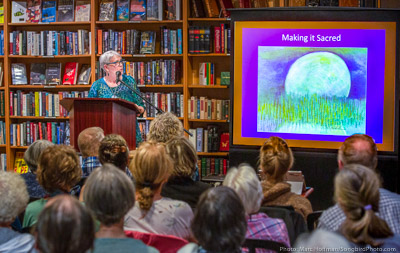 Clearing Clutter as a Sacred Act
Making Room for the Muse
A Gentle Approach to Clearing Clutter
In Praise of Imperfection
Cultivating Self-Compassion
Making Peace with Time
Making Space for New Beginnings
Embracing Spaciousness
An Introduction to Journaling
Writing to Clear Clutter
Making Space to Write
Organizations Where I've Presented
Click here for a partial list

.
The Therapeutic Writing Institute
The National Association of Poetry and Bibliotherapists Conference
The Center for Journal Therapy
The Whatcom County Library System
Brigid Collins House
Dorothy Place
The Opportunity Council
Bellingham Domestic Violence and Sexual Assault Services
The Expressive Therapies Summit – Los Angeles
The Eliot Institute
Churches including the Bellingham Unitarian Fellowship, The Garden Street Methodist Church, North Shore Unitarian Church in Vancouver, B.C., East Shore Unitarian Church in Bellevue, First Unitarian Church of Portland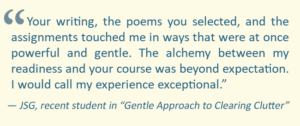 Upcoming Events:
Please see my Calendar
Current Online Classes:
J
ournaling to Clear Clutter: Three Simple Strategies.
This brief, self-paced course is designed to be a preview of the various online courses I'll be offering. It also serves as a helpful, stand-alone class guiding you to use journal writing techniques to effectively prepare for clearing clutter from your home, schedule, and heart. A special low price and bonuses for a short while longer. Normally it costs $47. This special is for $27 plus a recorded workshop where Carolyn and Kay Adams explore simplicity strategies. You also receive a bonus course by Kay on using journal writing to clear stress.
Register here.
These are two of many courses I'll be offering through the Journalversity online campus. It's a gathering of journal writing specialists, each with their own area of expertise. My school within the Journalversity is called, "A Gentle Approach to Clutter."