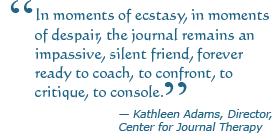 Journaling is a powerful way to process your thoughts and emotions. It can make you more aware of what's going on inside you and around you. It can also free up your creativity, challenge unhelpful patterns of thinking, and bring clarity to your priorities and decisions.
When you're journaling, you don't have to worry about spelling or grammar. You write freely and rapidly. Your unedited thoughts can lead to useful insights and surprising connections.
I am a Certified Journal Therapist and I often incorporate journal exercises into my psychotherapy sessions and workshops. I also offer a class called Journal to the Self®. I am a Certified Journal to the Self® Instructor and have kept journals for over 30 years.
What Is Journal to the Self®?
Journal to the Self is a 12-hour class designed and developed by internationally acclaimed journal therapist, Kathleen Adams. She directs the Center for Journal Therapy  and has trained and certified hundreds of instructors who teach this course throughout the world. 
This class covers 18 techniques designed to help you get the most out of journaling. I offer 6 weekly 2-hour sessions to groups of 8 or fewer.
Each week the group tries 2 to 4 new techniques. Those who feel comfortable doing so share what they've written. Hearing each other's writing can be a rich experience and brings a fuller understanding of the technique.
I also offer the class online. Please let me know if you'd like to know about future classes.