Below is a calendar of classes (local and on-line), workshops, presentations, and other scheduled events, many of them free:

Clearing Clutter as a Sacred Act 8-Week Online Course
July 8, 2021

-

September 2, 2021

$240.00
Event Navigation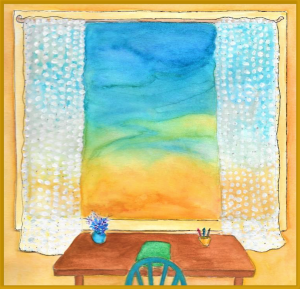 An eight-week, small-group, online course for those seeking to clear clutter from their home, head, heart, and schedule to make room for what matters. We'll support each other in engaging in emergent, not emergency clutter clearing.
Required Text: Clearing Clutter as a Sacred Act  
Click here to order paperback or ebook
Course Description:
Our intimate group will progress week by week through readings and recordings, poetry, prose, and songs,  sharing  through written discussion and reflection. A strong emphasis will be placed on using writing processes to turn your journal into a clutter-clearing companion helping you access personalized practical guidance and divine inspiration along the way. We'll practice:
Spacious Focus
Flexible Structures
Practical Actions as Devotional Acts
Since most of the course is asynchronous you can work on the assignments as it fits your schedule. Plan to spend a minimum of ninety minutes a week for eight weeks plus two 60-minute Zooms to be scheduled at the convenience of you and your classmates.
____________________________________________________
Week One – A Gentle Approach 
You'll get an overview of the gentle approach and have a chance to take stock of where you are, where you want to go, and how you'll approach this process in a way that has heart and meaning for you.
Week Two – Preparing Yourself
You'll identify and troubleshoot potential obstacles to your process.
Week Three – A Gentle Plan
You'll make a map for clutter-clearing that is personalized, adjustable, and effective.
Week Four – A Trustworthy Companion
You'll determine the kinds of assistance you might need and explore effective ways to get that help. You'll also practice turning your journal into a clutter-clearing companion.
Week Five – Letting Go
We'll practice strategies for engaging with, discerning about, and releasing objects infused with meaning and emotion. 
Week Six – Making Peace with Time
You'll investigate ways that your cluttering your schedule and any power struggles you're in with time. Then you'll practice strategies to help  forge a more satisfying relationship with time.
Week Seven – Gentle Practices
You'll experiment with small gestures and routines that tend your space and your life.
Week Eight – Soul Spaces, Setting Intentions, Saying Goodbye
You'll explore the dedicated spaces you might want to create and set the course for your next steps.
Space is limited. If you're interested in the class please contact Carolyn right away by clicking here.