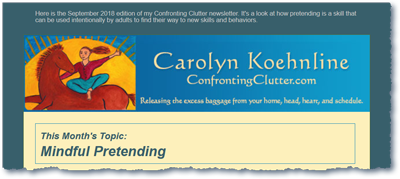 The Confronting Clutter Newsletter
I produce a monthly newsletter with tips for reducing the clutter in your life, as well as announcements of the workshops and classes. Below are links to several past newsletters that you're welcome to read. You can also subscribe to the newsletter (opens in a new browser tab).
Videos
My videos include three clutter-clearing songs set to familiar tunes, plus a guided visualization for clearing your clutter. See them at http://www.GentleApproachCoaching.com/videos/.
Articles
Other Resources