Hi, I'm Carolyn Koehnline. I coach, teach, speak, and write to support clearing clutter inside and out. This includes navigating transitions, making peace with time, and tending an artful life. As a certified journal therapist, I also use writing processes for healing and change.
My work with clients emphasizes self-compassion, effective techniques, and a positive orientation toward change.
Why a Gentle Approach? As a coach and licensed psychotherapist with more than 27 years of experience, I've found that a gentle approach is often the most powerful and effective.
A gentle witnessing, combined with helpful tools and strategies, can help you feel safe enough to take risks and make wanted changes.
The territory of this work is explored in depth in my new book, Clearing Clutter as a Sacred Act. Visit the book's companion site.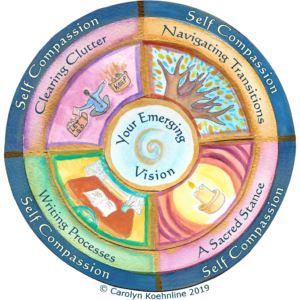 This Mandala visually represents my multi-faceted approach to clutter clearing and navigating transitions. Click it to enlarge the image.